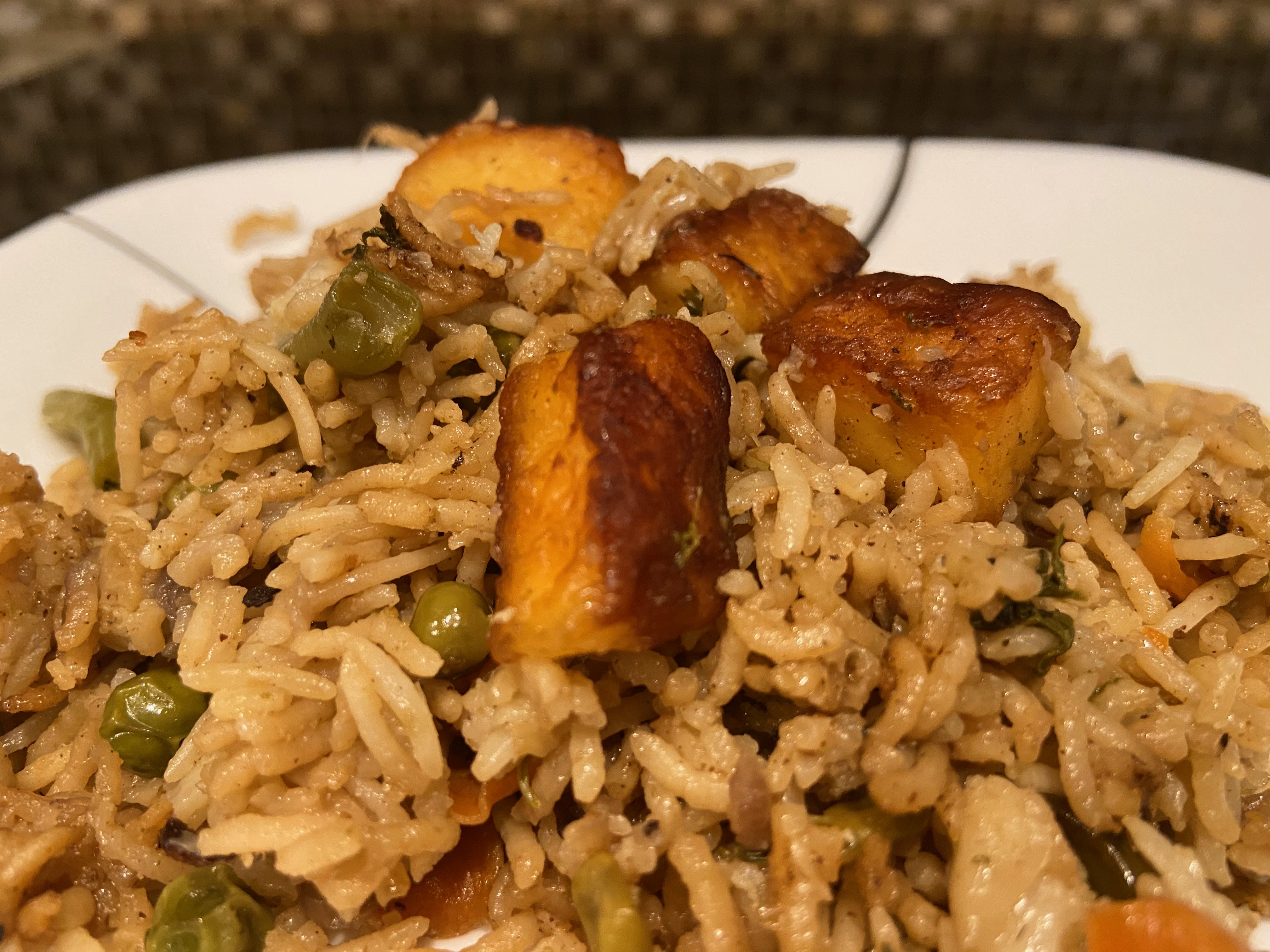 One side effect of the shelter-in-place situation that we all find ourselves in is that I have started cooking a lot more. I have always loved to cook but haven't always had or made the time it deserves. While some recipes turn out to be just OK, some have turned out to be utterly delicious. I want to document those recipes here so I can refer to them later. Here's a recipe for paneer pulao, an Indian rice dish made with spices, vegetables, and cottage cheese.
Ingredients
Basmati Rice - 1 cup uncooked
Bay leavs - 1-2
cloves - 3-4
black cardamom - 1-2
green cardamom - 3-4
cinnamon stick - 1/2 inch stick
onions - 1 medium
green peas - 1 cup
green beans - 1 cup, diced
carrots - 1 cup, diced
cauliflower florets - 1 cup
potato - 1 cup, cubed
mint leaves - handful
coriander leaves - handful
paneer - 10 oz pack, cut into cubes
garam masala - 1 tbsp
salt to taste
ghee - 1 tbsp
coconut oil - 1 tsp
Recipe
Soak 1 cup basmati rice in water for 30 mins. I use the Kohinoor brand. I find the smell and taste very flavorful, but any brand should work.
While the rice soaks, add 1 tsp of coconut oil or ghee to a hot a pan and add cubed paneer. Saute the paneer till the cubes are golden brown. Optionally, you can also a handful of cashews and saute them along with the paneer. Set aside in a container with a paper towel once done. The paper towel soaks in excess oil.
Add 1 tbsp of ghee into the same pan. Add the whole dry spices - bay leaves, cloves, black cardamom, green cardamom, and cinnamon sticks. Saute till they let out a nice aroma - usually takes about 3 mins.
Slice the onion into thin slices and add them into the pan. Saute till onion turns brown - usually takes about 5 mins.
Add the vegetables - beans, cauliflower florets, carrots, peas, potatoes. Saute for 5 mins
Add the paneer, garam masala, coriander leaves, mint leaves, and soaked rice. The key ingredient here is mint. Do yourself a favor and do not skip adding mint leaves.
Add salt to taste and 1.5 cups of water. Boil on a medium flame for 1 whistle (if using a pressure cooker). If using the instant pot, cook for 10 mins on rice mode.
That's it. Done. Eat. Enjoy the most delicious paneer pulao you've ever eaten!
comments powered by

Disqus